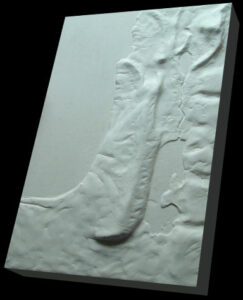 Relief Map of Israel (11 x 17 inches)
Maps are made of a mixture of Hydrostone, Marble, and Grout
Terrain is created by artist Bjanikka Ben
These maps are designed as tools for teaching Geography.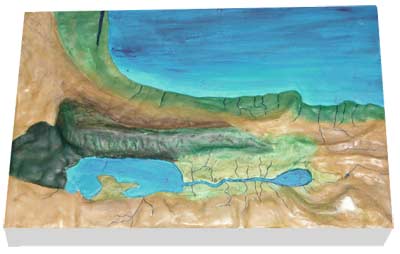 The Land of Israel
11 x 17 inches (2 inches at highest point) Weight 15 pounds. Covers the topography of Israel.
$79.99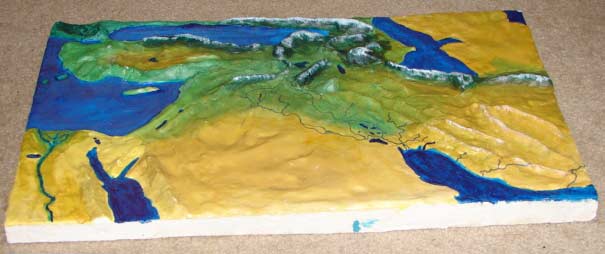 The Roman World
11 x 17 inches. Covers the topography of the extent of the Roman Empire at its height. From Spain in the west to Parthia in the east, and from Briton and Germania in the north to Africa in the south.
$79.99
The Near East
11 x 17 inches. Covers the topography of the ancient Near East from Asia Minor to Susa to Egypt.
$79.99
About the Maps
These maps are made from a mixture of Hydrostone, Marble, and Grout for a strong durable map block. They weigh approximately 15 pounds each and are unfinished for easy painting. You can paint them with your students, or you can coat them with epoxy and use dry erase markers on them to help illustrate Biblical events and boundaries.
About Geography
These maps are great for teaching the geographical terrain of the ancient world. From the Life of Jesus to the Journeys of Paul and the Apostles these maps are a blessing for the serious student of the Scriptures. Without a terrain map it is hard to discover some of the fabulous topography of Biblical places. For example in Israel the Dead Sea region is the deepest land trench in the entire world. To travel from Jerusalem to Jericho was quite a descent into that region. Jerusalem was 2500 ft above sea level and Jericho was 850 feet below sea level and the distance was about 23 miles. This made it almost a vertical descent.
God is the author of geography and because He knows the end from the beginning He set mountains in strategic locations to halt prideful man from conquering certain places too easily. He used geography to help form the great kingdoms of the ancient world.
Luke 10:30 "And Jesus answering said, A certain man went down from Jerusalem to Jericho, and fell among thieves, which stripped him of his raiment, and wounded him, and departed, leaving him half dead."